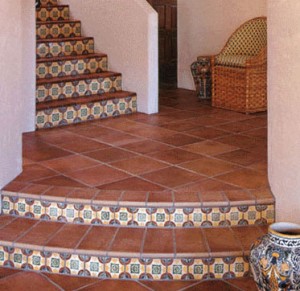 Tile can be a great flooring choice for almost any room in your home. Tile is durable, scratch-, fire- and water-resistant, and easy to clean. Depending on the function of your room, you'll want to choose a different kind of tile. Here are a few things to consider when picking your tile flooring, and some of the tile options available.
Roughness
It's important to look at the tile's roughness before you buy, as this is the quality that determines how slip-proof it is. Baths and kitchens are two of the most important rooms in the house that require tile that is non-slip. Slip-resistant tile is treated with an abrasive material to roughen up the surface, thus making it safer to step on.
Hardness
Some tiles are harder than others, and can stand heavier traffic without wearing down or breaking. The Porcelain Enamel Institute has the following five hardness ratings:
Group I, Light Traffic: good for home bathrooms, where bare feet or socks are norm.
Group II, Medium Traffic: good for home interiors other than kitchen and entryways.
Group III, Medium-Heavy Traffic: any home interior.
Group IV, Heavy Traffic: any home interior and light commercial areas
Group V, Extra Heavy Traffic: can be used anywhere.
Porosity
Porosity is the measure of how water absorbent a tile is. If a tile is not absorbent, it means it is water proof. This is the tile you want to use in baths and kitchens. The porosity ratings are:
Impervious (least absorbent)
Vitreous
Semi-vitreous
Non-vitreous (most absorbent)
Types of Tile
There are countless different types of tiles to choose from. Here are just some of the basic kinds.
Brick – Brick is a good choice for rustic home designs and is usually used in outdoor spaces.
Ceramic – Ceramic tiles are treated in one of two ways, glazed and unglazed. Glazed tile has a glassy surface and comes in more varied and brighter colors. It is also more stain resistant, but not slip-proof. Unglazed ceramic tile is rougher and its color is already present during firing. Unglazed tile need sealant to help with stain resistance.
Porcelain – Porcelain tile is very dense and resistant to moisture.
Saltillo – Also called Mexican tile, this type of tile is air dried, giving it a unique look. However, the exposure makes it softer than other tile and less durable.